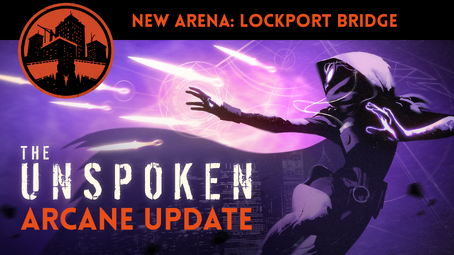 New Content
[
]
Lockport Bridge Arena: Duel for supremacy in a violent blizzard!
Bridge Wraith Summon: Awaken an interdimensional ice-demon to freeze your enemy!
Dark Tag Artifact: Conjure vision-obscuring paint traps on your opponent's pillars!
New Features
[
]
Spectator Overlay: Health, Ember count, and Artifact loadouts are visible on the desktop window. Toggle visibility in the settings menu.
Practice while waiting: Primal Spells and target orbs are enabled in the ranked pre-match waiting zone.
Allegiance Indicators: Spells with allegiance properties display ownership marks.
Spell Health Bars: Arena Guardians and spell minions display health overlays.
Teleport Cooldown: Pillars display a teleport cooldown ring.
Arena Info: Arena selection globes display information panels.
Tuning and Fixes
[
]
Arenas
[
]
Elmhurst Avenue: Moved the cover stone slabs slightly.
Pulaski Circle: The Spear Forge now respects the collision of the center statue.
Pulaski Circle: Moved cover tombstones slightly.
Anarchist Class
[
]
Pyrotechnics: Added markers to targeted pillars.
Pyrotechnics: Descending Fireworks are invulnerable.
Pyrotechnics: Further reduced the max number of fireworks by one.
Chaos Skull: Enabled minimum charge time.
Kineticist Class
[
]
Force Bubble: The Force Bubble now despawns properly.
Blackjack Class
[
]
Spectral Disc: Enabled minimum charge time.
Spectral Cloak: Added spillover damage when an inhabited cloak is destroyed.
Artifacts
[
]
Spear Forge: Reduced spear damage.
Spear Forge: Primal Shields now mitigate spear damage consistently.
Settings
[
]
Info toggle: Added a menu option to disable in-world player info UI: health and ember count.
HUD toggle: Added a menu option to set the in-headset status HUD to always on.
General
[
]
Reporting: 'Report Player' now functions as intended.
Skip Intro: Added a skip intro option to the menu during replay.
Ranking: Players will no longer lose rating points after a win.